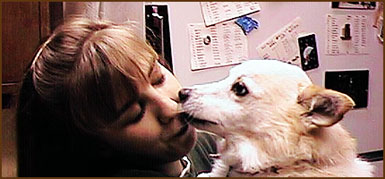 BOARDING
Dogs stay in indoor/outdoor runs that are appropriate for their size. Our largest runs can accommodate up to three Labrador-size dogs from the same family. The indoor area is heated and air conditioned , and the temp is controlled between 65 and 80 degrees year around. Both the indoor and outdoor portion of the run are separated from other dogs by concrete block walls to 40 inches high, and chain link fence panels to 74 inches. Covered runs are available for climbers.
We feed puppies Purina Puppy Chow , adult dogs get Purina One Lamb and Rice, and seniors get Eukanuba Senior . We have found this to be the best mix to minimize intestinal problems associated with stress. If you prefer, you may bring your own food, along with instructions for feeding, and our staff will be glad to accommodate your dog's nutritional needs.
Dogs that are with us for more than one night get exercised in our fenced yards by our kennel staff. This is usually done on a Flexi-lead, and involves a toy or ball chase. This is the favorite activity for those of us who take care of your dogs, so we do not have a problem scheduling exercise activity.
We have a puppy/geriatric area in the kennel for very young, very old, or dogs with physical problems that require special care. Though we are happy to provide special care, we do not keep sick or infected dogs (we leave that to the excellent vets in Jackson and the surrounding communities). In order for us to keep your pup, it must have had it's first 2 sets of shots. We require current inoculation against rabies, distemper, canine parvovirus, and canine cough (bordetella).
We designed our own cattery because we could not find commercial facilities that met our standards of size and openness. Our cat guests stay in a part of the kennel that is separate from the dogs . Each cat, or family group of cats, stays in an enclosure that is four feet wide, three feet deep, and four feet high. We can keep two cats from the same family in these enclosures. The cattery is heated and air conditioned. Adult cats eat Iams Cat Food.